Mental Health & Wellbeing
Children's Mental Health Week
As part of Children's Mental Health Week (3rd-7th Feb) the Newport MIND Whole School Approach team will be holding Q&A session in the school Conference Room, 1.20pm-2pm, Wednesday Feb 5 2020. The session will be informal and open to anyone who would like to find out more about mental health. This could be useful to any young person looking for information to understand their own mental health, the mental health of family and friends, or for those considering a career in mental health.
Please pop along if you are interested and see the team.
---
SJHS Wellbeing Newsletter by MIND
| | |
| --- | --- |
| | This newsletter outlines the upcoming schedule of activities, how to get involved with interventions for students, staff, parents and caregivers, in addition to highlighting some of the fantastic work that has taken place in St Joseph's RC High School already this year. |
Exam Support

Exams can be a challenging time for many young people.
It can be difficult to know what to do if your child is feeling worried or stressed about exams, but there are lots of ways you can help support them. The leaflet above offers some information about how to spot your child may be struggling, and some practical tips on how to support them during their exams.

Stay well online

Social media and mental health.
Lots of young people use social media and it's likely that your child will use some form of online communication. The leaflet above aims to give parents information about social media, its potential effects on mental health, and what to do if you're worried about your child's use of social media.

Family wellbeing

Understanding Wellbeing
Mental wellbeing describes your mental state – how you are feeling and how well you can cope with day-to-day life. Our mental wellbeing is dynamic. It can change from moment to moment, day to day, month to month or year to year. The leaflet above will give you some ideas around how to support wellbeing in your family in five easy steps, making it fun for everyone involved.
'This is Me'
THIS IS ME is a campaign that will challenge gender stereotypes in a positive way aiming to start conversations about gender and to encourage people to 'live fear free' from gender constraints and gender norms.
The THIS IS ME campaign has been developed in partnership with our expert stakeholders and survivors who are part of our Violence Against Women, Domestic Abuse and Sexual Violence Communications Group.
These include representatives from:

Welsh Local Government Association
Cardiff University
Police
Her Majesty's Prison and Probation Service
What is the issue?
Outdated notions still exist of how we should all act and what behaviours and achievements we should expect as a result, putting pressure on people to conform to society's 'norms'. Our gender can have an impact on how safe we feel, where we feel we can go, what job we feel we can apply for and other people's expectations of us.
The THIS IS ME campaign recognises that we are all so much more than just our gender.
The campaign recognises that we must acknowledge the link between gender and violence against women, domestic abuse and sexual violence. It acknowledges that the pressure to conform and gender inequality present in our society can be a cause and consequence of violence against women, domestic abuse and sexual violence. Everyone in Wales deserves to live fear free of gender stereotypes –to be whoever they want to be and reach their full potential.
What can you do?
We are starting a conversation about gender inequality and how it affects people across Wales. From a man working as a midwife to a woman working as a mechanic, or a young boy wearing makeup to a young girl playing in the mud with her truck – people across Wales are already challenging gender stereotypes and 'norms', but inequality still remains.
Join the conversation on Facebook and Twitter using #thisisme to help us build a Wales that challenges gender stereotypes, a Wales free of pressure to conform, a Wales that celebrates #thisisme.
Find out more using these links:
Why gender can't be ignored when dealing with domestic violence.
Gender Stereotypes make teenagers more accepting of violence.
How can gender stereotypes affect children?
Rizzle Kicks' Jordan Stephens on the effects of toxic masculinity.
---
Further information for parents
When more spaghetti hoops end up on the floor than in their tummy...
Pan mae mwy o sbageti ar lawr nag yn eu boliau...
Being a parent can be wonderful and rewarding but also exhausting and challenging. Whether it's screaming in the supermarket or a meltdown at mealtime, children's behaviour can be unpredictable and difficult to manage. And this can sometimes leave you frustrated or angry. If you are sometimes feeling at the end of your tether click on the link below for more information on Take 5.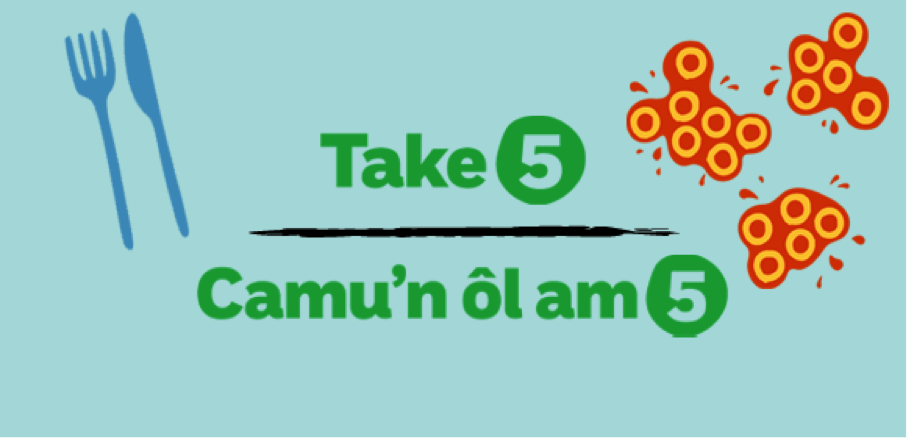 ---
No Harm Done!
Information about self-harming for young people and parents/carers.
So why are you here? You might be self-harming, maybe you've thought about it, maybe you have a friend who is self-harming or perhaps you just want to know more. Things can change.
---
Wellbeing for Future Generations
In 2014 a young people's needs survey was undertaken in partnership with schools which received nearly 1,000 responses from young people aged from four to over 20. The results were very informative and contributed to the development of school policies, council and partnership services. This autumn, a similar young people's survey is planned alongside other public engagement relating to the Wellbeing of Future Generations Act. This new Act places duties on the Council and our partners to work together to improve the social, economic, environmental and cultural wellbeing of our communities now and in the future and puts sustainable development at the heart of public services; a world-first for Wales.