Parent Support
Starting High School
Free BBC resources for Induction Day
Starting Secondary School is a new BBC Bitesize campaign aimed at 10-12 year olds, their parents and teachers. With only a few weeks left of their final term at primary school and induction days about to start, this campaign shines a light on the great potential of starting afresh in secondary school. It also offers practical advice and emotional support to help take the stress out of taking the next big step
Using the highly successful format of peer to peer advice, Starting Secondary School partners with CBBC documentary series Our School to get first-hand experience from children who have made the move and, not only survived but thrived.
There are also tips for parents on how to best support their children emotionally and practically, as well as expert advice on topics such as bullying and online safety.
On BBC Teach there are bespoke classroom clips and resources, in partnership with YoungMinds, that can be used as part of a discussion around transition as well as case studies of schools from across the UK that have interesting transition projects.
bbc.com/startingsecondaryschool
---
Digital Safety - Yubo Social App Information
Yubo formerly Yellow social media app – what parents need to know:
What can you do to protect your child?
If your child is using the app or wants to start, talk to them about the potential risks and what they hope to gain from it.
Also, consider whether your child is emotionally mature to be exposed to the kind of content that may be posted on the app. Advise them to be careful about what personal information they are sharing and the potential risks of sharing too much with a potential stranger. Take some time to go through Yubo's community guidelines so you and your child are aware of what is allowed on the platform and what is not: community.yubo.live
What should you consider before letting kids use the app?
Minimum age limit – Although the app prompts a user who enters a birthday under 13 with a message that says 'Sorry, it looks like you're not eligible for Yubo…but thanks for checking us out', there is still the potential that they could go back in and enter a false date to access the app. Therefore, it's important to help your child understand why these restrictions are in place so they don't come across inappropriate content or connect with the wrong people.
Sharing location – Although you don't need to share your location to use the app, it is an integral part of the way the app is used. If you have locations enabled you can find friends nearby. Your location is then shown to other potential 'friends' along with your name and age.
Inappropriate content – Although the app is rated 12+ (in App store) anyone can sign up and post inappropriate content that breaks Yubo's community guidelines. So, it is important to talk to children about what they may come across on the app and how to report it.
Live streaming – Makers of Yubo have implemented some safety features to make it safer for children to live stream on the app but it still poses a risk in light of the increase of online sex offenders using this tool to groom children and the potential to that children may share too much personal information 'in the moment' with people they've never met in real life. See our expert tips on live streaming for support.
What are the safety features of the app?
Managing who they talk to on the app & privacy
• Yubo has created a separate community for 13 – 17-year-olds and adults to make sure that children are not speaking to adults.
• You can restrict who can talk to you, by choosing either 'Boys', 'Girls' or 'Boys & Girls'.
• Choose to hide location by selecting 'Hide my city' to keep their location private.
• There is an option to restrict friends to find them on the app using their mobile number.
• If their location is enabled you can change distance settings on the profile to meet friends within a certain area – either local or going global.
• To prevent fake accounts being created, when setting up an account you have to enter your mobile phone number and verify it on your phone (like Whatsapp).
• Safety prompts – Every user entering a live stream is prompted with Yubo's community guidelines.
Moderation
Yubo uses a number of tech tools to remove inappropriate content that breaks community guidelines and remove fake profiles. To make live streaming safer, the app uses an algorithm to recognise when there is nudity and shuts down the live feed immediately and blocks the user out of the app for a period of time. All titles of live streams are monitored to make sure they follow community guidelines and don't contain anything explicit or inappropriate. If it's inappropriate the user is given one minute to change it before the live stream is shut down. Banned use of emojis as profile names that are sexually explicit.
---
---
Bereavement Support
Please contact the school if you need any help, but if this is not possible, please use the links below to help until you can.
RD4U
Part of Cruse Bereavement Care. If you are a young person you can send a private message to one of their trained volunteers at info@rd4u.org.uk who will reply to you by email. If you want to talk to someone directly, you can call their FREE phone helpline on 0808 808 1677.
Winstons Wish
The leading childhood bereavement charity and the largest provider of services to bereaved families in the UK. They have specialist expertise in supporting children bereaved by suicide and they also have a site for young people.
Grief Encounter
Provider of support services for bereaved children and their families throughout the UK in order to help children find ways out of the abyss of grief. Their site has sections for children and young adults.
Samaritans
If you are under 18, you can still talk confidentially to the Samaritans. They won't tell you what to do, they will listen and try to understand what you're going through. Their number is 116 123 (UK) or look at their site for other ways to contact them.
Childline
Childline is a private and confidential service for children and young people up
to the age of nineteen. You can contact a Childline counsellor about anything – no problem is too big or too small. Call them free on 0800 1111, have a 1-2-1 chat online or send an email.
If U Care Share
If U Care Share Foundation is a charity promoting emotional well being in young people and supporting families affected by suicide.
Child Bereavement UK
Supports families and educates professionals when a child dies or is dying or when a child is facing bereavement. Young people can contact them confidentially by phone on 0800 02 888 40 or email them.
Papyrus
The national UK charity dedicated to the prevention of young suicide. They have a confidential helpline (0800 068 41 41) or you can email them (pat@papyrus-uk.org) or text them 07786 209697.
CALM
The Campaign Against Living Miserably exists to prevent male suicide in the UK. They use young men's peers, their voices and interests to reach them and their materials and communications are created by young men. You can call or text their helpline – see their site for details depending on your location.
Cruse Bereavement Care
Provide support for adults and children after the death of someone close. They also operate a helpline.
Penhaligon's Friends
A Cornish charity supporting bereaved children, young people, parents and carers throughout the county. We offer children and young people the chance to meet others and share their experiences, as well as practical resources for children and parents.
PUBLICATIONS
Loss and the Development of Resilience (2007)
Gloucester Educational Psychology Service*.
A training pack for primary schools but can be adapted for secondary provision.

When Someone Dies (2007)
Speaking Up. An accessible guide to bereavement for people with learning disabilities and their carers.
---
Exam Support
Exams can be a challenging time for many young people.
It can be difficult to know what to do if your child is feeling worried or stressed about exams, but there are lots of ways you can help support them. The leaflet above offers some information about how to spot your child may be struggling, and some practical tips on how to support them during their exams.
Stay well online
Social media and mental health.
Lots of young people use social media and it's likely that your child will use some form of online communication. The leaflet above aims to give parents information about social media, its potential effects on mental health, and what to do if you're worried about your child's use of social media.
Family wellbeing
Understanding Wellbeing
Mental wellbeing describes your mental state – how you are feeling and how well you can cope with day-to-day life. Our mental wellbeing is dynamic. It can change from moment to moment, day to day, month to month or year to year. The leaflet above will give you some ideas around how to support wellbeing in your family in five easy steps, making it fun for everyone involved.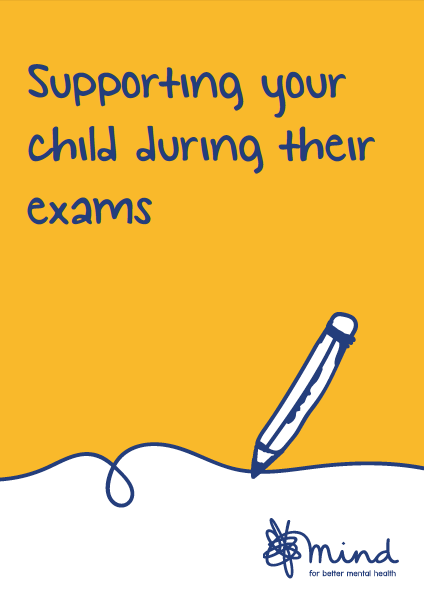 ---
Momo 'Suicide Game' safety advice issued for worried parents
| | |
| --- | --- |
| | An online suicide game that encourages children to harm themselves is putting parents and schools on red alert. The Momo Challenge is played over WhatsApp, with the Momo character asking would-be participants to contact 'her' and carry out a series of challenges – the final one being suicide. But should parents actually be worried? |
Safety experts, National Online Safety, have shared seven useful tips after they revealed hundreds of schools and parents have asked for advice about the challenge.
1.Tell them it's not real Just like any urban legend or horror story, the concept can be quite frightening and distressing for young people. While this may seem obvious, it's important for you to reiterate to your child that Momo is not a real person and cannot directly harm them. Also, tell your child to not go openly searching for this content online as it may only cause more distress.
2. Be present It's important for you, as a parent or carer, to be present while your children are online. This will give you a greater understanding of what they are doing on their devices, as well as providing you with the opportunity to discuss, support and stop certain activities that your child may be involved in. As the nature of each task become progressively worse it's also important to recognise any changes in your child's behaviour.
3. Talk regularly with your child As well as monitoring your child's activity, it's important for you discuss it with them too. Not only will this give you an understanding of their online actions, but those honest and frequent conversations will encourage your child to feel confident to discuss issues and concerns they may have related to the online world.
4. Device settings and parental controls Ensure that you set up parental controls for your devices at home. This will help to restrict the types of content that your child can view, as well as help you to monitor their activity. In addition to this, it's vital that you are aware of your device and account settings to ensure your child's utmost safety. For example, on YouTube you can turn off 'suggested auto-play' on videos to stop your child from viewing content that they have not directly selected.
5. Peer pressure Trends and viral challenges can be tempting for children to take part in; no matter how dangerous or scary they seem. Make sure you talk to your child about how they shouldn't succumb to peer pressure and do anything they are not comfortable with, online or offline. If they are unsure, encourage them to talk to you or another trusted adult.
6. Real or hoax As a parent it is natural to feel worried about certain things you see online that may be harmful to your child. However, not everything you see online is true. Check the validity of the source and be mindful of what you share as it may only cause more worry.
7. Report and block You can't always rely on parental controls to block distressing or harmful material. People find ways around a platform's algorithm in order to share and promote this type of material. Due to this, we advise that you flag and report any material you deem to be inappropriate or harmful as soon as you come across it. You should also block the account/content to prevent your child from viewing it. Also encourage your child to record/screenshot any content they feel could be malicious to provide evidence in order to escalate the issue to the appropriate channels.
For further advice, you can call a trained Childline counsellor on 0800 1111.
---
Parents' and carers' guide to secondary school for children aged 11 to 14
The Welsh Government believes that giving young learners a sound foundation for the future will benefit children and Wales as a whole in the long term.
Parents and carers have a vital role to play in helping their children to learn and, more importantly, to enjoy school and learning. This guide will help explain what your child is learning in secondary school.
It will give you some ideas about how to help your child and where to get more information, and will explain how their progress will be measured and reported to you.
For further information click on the documents below or visit the website http://gov.wales
---
Sparkle Helping Hands Service
What is Helping Hands?
Helping Hands is a Sparkle support service for families (parents/carers, grandparents and brothers or sisters) of children with disabilities and/or developmental difficulties, living in Newport, South Torfaen and South Monmouthshire. We offer the following services, click here for more information:
If you would like to come and talk to us please contact us in any of the following ways:
* Complete the self referral form and return it to us at the Serennu Centre or via a professional who is working with you and we will contact you.
* Please telephone Maisy Haines our Assistant Psychologist on 01633 748023; or email maisy.haines@wales.nhs.uk with your contact details (name, address, phone and email) and some details about how you heard about the service and what you are looking for support with and we will contact you.
* Talk to Jayne Jones, our Family Liaison Officer and she will help you to complete the necessary forms or pass on your details for one of the Helping Hands team to get in touch with you.
---
Kinship Carers'
In response to a number of concerns expressed by both schools and parents directly, GAVO has worked closely with the Kinship Care Development Officer at Children in Wales to facilitate this new support group for families in Newport who have full time care for a child that is not their birth child. These families will likely describe themselves as being in a 'Private Fostering' relationship or will be under a Special Guardianship Order (SGO) arrangement (or going through the legal process).
Social Services have surveyed known families in this situation and they have requested this support group. The families contacted so far have stated that it is better for them to meet on a weekday in the mornings. Therefore, the first meeting will be held on Tuesday 25th April at 10.00am here at the GAVO offices in Church Rd.
If you can't attend the weekday meetings, please contact Bernadette Byrne, Parent Participation Officer at GAVO. For more information click on the flyer below.