Careers/Apprenticeships
BBC Apprenticeship with Doctor Who
DOCTOR WHO TRAINING AND DEVELOPMENT OPPORTUNITY
Are you passionate about great TV drama? Do you have the ambition to work in TV drama production but don't know where to start? We are offering 5 exciting training opportunities on Doctor Who for motivated and ambitious newcomers who are passionate about Drama.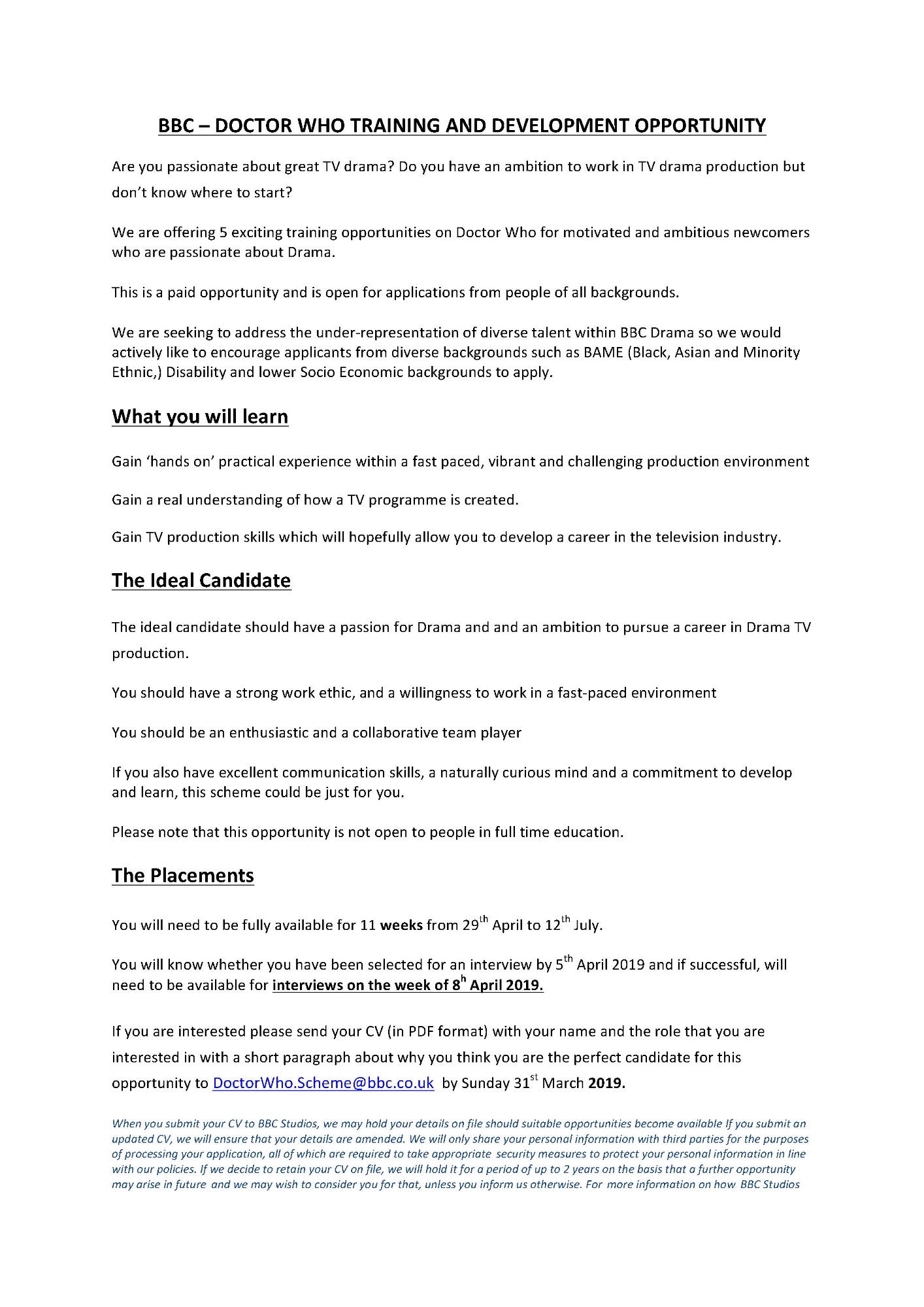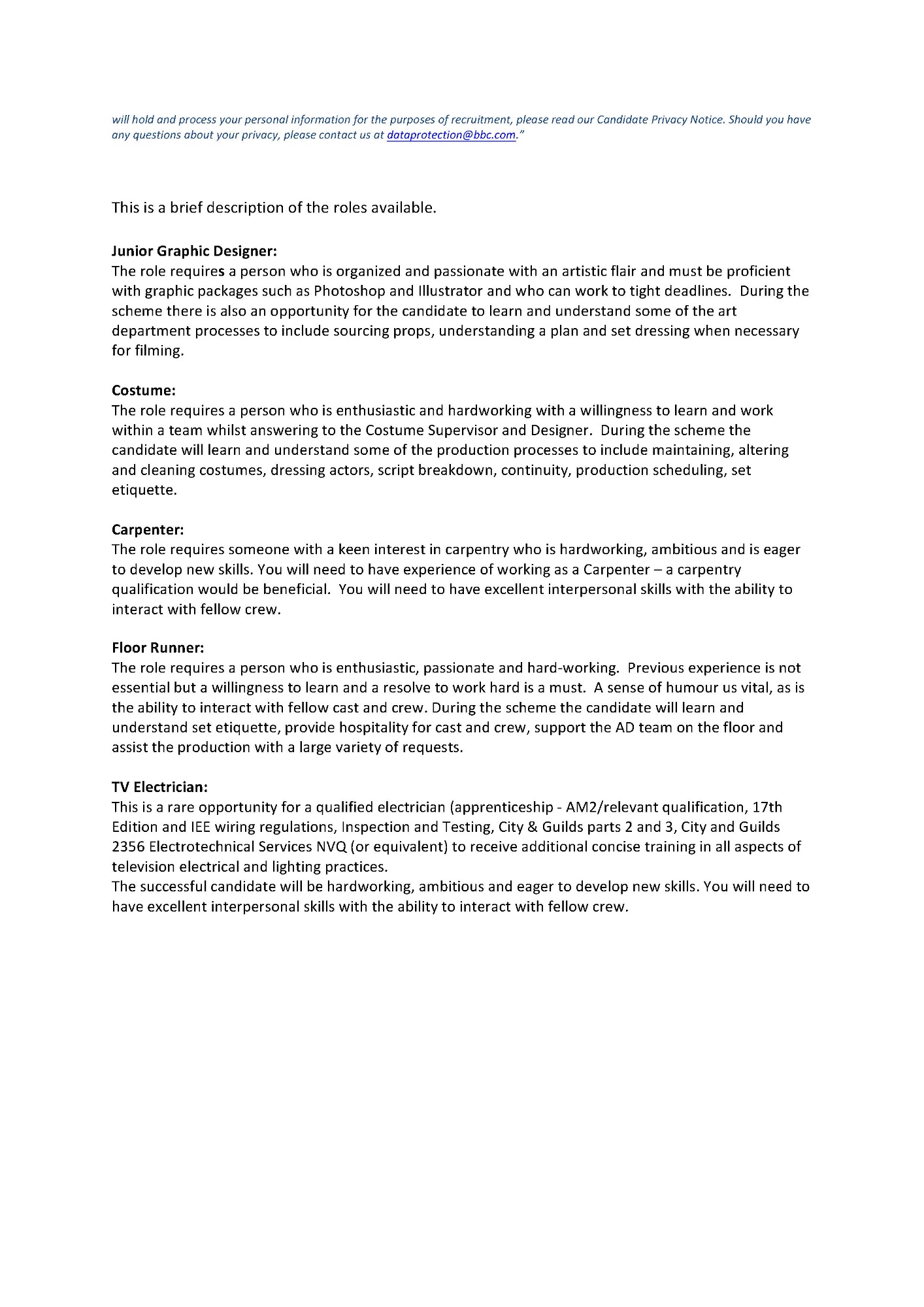 This is a paid opportunity and is open for applications from people of all backgrounds.
We are seeking to address the under-representation of diverse talent within BBC Drama so we would actively like to encourage applicants from diverse backgrounds such as BAME (Black, Asian and Minority Ethnic,) Disability and lower Socio-Economic backgrounds to apply.
You will need to be fully available for 11 weeks from 29th April to 12th July.
You will know whether you have been selected for an interview by 5th April 2019 and if successful, will need to be available for interviews on the week of 8h April 2019.
If you are interested please send your CV (in PDF format) with your name and the role that you are interested in with a short paragraph about why you think you are the perfect candidate for this opportunity to DoctorWho.Scheme@bbc.co.uk by Sunday 31st March 2019.
---
Springpod
The careers network for STEM superstars
Online careers education platform that connects students aged 13-18 with prestigious STEM employers for career exploration, industry interaction, work experience and apprenticeships.
Springpod hosts a library bursting with career paths and top employers, where students are able to explore career information and labour market data to open their eyes to the wide world of STEM, enabling students to make informed career decisions years before leaving school or college.
Students can ask questions and get advice from industry ambassadors doing their dream job, as well as source and apply for live work experience, apprenticeship and job opportunities.
---
HSBC Experience Programme
Deadline 10th March, 2019
The HSBC Work Experience Programme is designed to encourage students from different social-economic backgrounds to find out about banking with a view of joining HSBC either after university of after school through the apprenticeship or undergraduate programmes.
The programme offers a five-day shadowing experience to students in the later years of full-time secondary education, sixth form or college. The programme was set up with the idea to help young people gain an insight into a professional environment, as well as the banking industry.
All Work Experience opportunities will be available through June, July and August 2019. Specific details regarding each opportunity are available on each advert, click button below for details.
The application process will entail some online questions and if successful, a telephone interview. To help prepare for this, we recommend checking out our Application Hints and Tips page here
Our placements will be spread out across the UK and students can list their location preferences when applying, but please note that we cannot make any guarantees on placing a student in their preferred location as this is subject to availability.
All applications should be submitted before the deadline of 10th of March 2019. As places will be limited, we will be offering placements on a rolling basis, therefore students should apply early to avoid disappointment.
For further information on the programmes please see our main page here: http://www.hsbc.com/careers/students-and-graduates/programmes/uk-work-experience-programme.
We look forward to hearing from you.
Best regards,
HSBC Work Experience Recruitment Team
Hong Kong & Shanghai Banking Corporation Limited
---
Careers Events happening at school this year:
School Event
Date
Time
Information
Careers Wales Labour Market
17-18 Dec
P5
Support Year 10 with preparation for our January Annual Careers Fair, there will be two sessions where 4 advisors are visiting the school to meet and pass on key information to pupils. JOSE Mon Dec 17. PHTV p5 Tues Dec 18.
Careers Wales Outreach
16-17 Jan
Supporting Year 9 with their understanding of career pathways and how to access guidance through the internet. Personalised guidance in targeted lessons to structure how academic progress has a direct link to future career aspirations and opportunities.
Annual Careers Fair
22 Jan
all day
27-30 partnership employers will be visiting school and providing bespoke advice and presentations to Years 9-13. A wide selection of employers will be taking part to offer our young people the greatest coverage and scope of information and possible vocational links.
Engineering Clinic
30 Jan
1.40-2.20pm
For those pupils who have indicated that they are interested in this field of employment through Careers Wales profiling. Invitation only event, names will be shared with HOY/Tutors.
Health and Social Care Clinic
20 Feb
1.40-2.20pm
CV and Personal Branding Clinic
20 Mar
1.40-2.20pm
Apprentice Week
4-8 Mar
1.40-2.20pm
Short presentations will be given by partnership employers regarding the routes into apprenticeships, scope within various industries and academic requirements. One category of employment will be given each day of the week.