Careers/Apprenticeships
HSBC Experience Programme
Deadline 24th February 2019
The HSBC Work Experience Programme is designed to encourage students from different social-economic backgrounds to find out about banking with a view of joining HSBC either after university of after school through the apprenticeship or undergraduate programmes.
The programme offers a five-day shadowing experience to students in the later years of full-time secondary education, sixth form or college. The programme was set up with the idea to help young people gain an insight into a professional environment, as well as the banking industry.
All Work Experience opportunities will be available through June, July and August 2019. Specific details regarding each opportunity are available on each advert - click button below for information.
The application process will entail some online questions and if successful, a telephone interview. To help prepare for this, we recommend checking out our Application Hints and Tips page below:
Our placements will be spread out across the UK and students can list their location preferences when applying, but please note that we cannot make any guarantees on placing a student in their preferred location as this is subject to availability.
All applications should be submitted before the deadline of 24th of February 2019. As places will be limited, we will be offering placements on a rolling basis, therefore students should apply early to avoid disappointment.
For further information on the programmes please see our main page here: http://www.hsbc.com/careers/students-and-graduates/programmes/uk-work-experience-programme.
We look forward to hearing from you.
HSBC Work Experience Recruitment Team
Hong Kong & Shanghai Banking Corporation Limited
Level 35, 8 Canada Square, Canary Wharf, London, E14 5HQ
---
Careers Events happening at school this year:
School Event
Date
Time
Information
Careers Wales Labour Market
17-18 Dec
P5
Support Year 10 with preparation for our January Annual Careers Fair, there will be two sessions where 4 advisors are visiting the school to meet and pass on key information to pupils. JOSE Mon Dec 17. PHTV p5 Tues Dec 18.
Careers Wales Outreach
16-17 Jan
Supporting Year 9 with their understanding of career pathways and how to access guidance through the internet. Personalised guidance in targeted lessons to structure how academic progress has a direct link to future career aspirations and opportunities.
Annual Careers Fair
22 Jan
all day
27-30 partnership employers will be visiting school and providing bespoke advice and presentations to Years 9-13. A wide selection of employers will be taking part to offer our young people the greatest coverage and scope of information and possible vocational links.
Engineering Clinic
30 Jan
1.40-2.20pm
For those pupils who have indicated that they are interested in this field of employment through Careers Wales profiling. Invitation only event, names will be shared with HOY/Tutors.
Health and Social Care Clinic
20 Feb
1.40-2.20pm
CV and Personal Branding Clinic
20 Mar
1.40-2.20pm
Apprentice Week
4-8 Mar
1.40-2.20pm
Short presentations will be given by partnership employers regarding the routes into apprenticeships, scope within various industries and academic requirements. One category of employment will be given each day of the week.
Please see below for opportunities in apprenticeships and training.
ACTION FOR CONSERVATION!
Aged 12 - 16 and living in London and the South East? Passionate about helping our planet? Ready to lead real action? Then apply to join us in the South Downs National Park for our very first spring conservation camp.
We are looking for young people from across London and the South East to join us on our spring conservation camp at Slindon Base Camp in the South Downs National Park. Simply tell us about an environmental project you'd like to lead in your local area and you could win a FREE spot on our camp for five days of discovery, exploration and adventure. Watch the camp trailer below, download our application form and share this far and wide - you can even apply with a friend!
The deadline for applications is January 20th 2019
---
Backstage Theatre
The Wales Millennium Centre are looking for 30 female 14-18 year olds (in education or post education) who are interested in Backstage Theatre to spend Wednesday 12th December with theatre professionals; learning about the many roles and what routes into backstage theatre are available.
They are happy for people to come from any region of Wales but there is no travel allowance.
To get involved, get in touch with Jenny Sturt on 02920 636459 or jenny.sturt@wmc.org.uk.
---
BBC Wales Mentoring Programme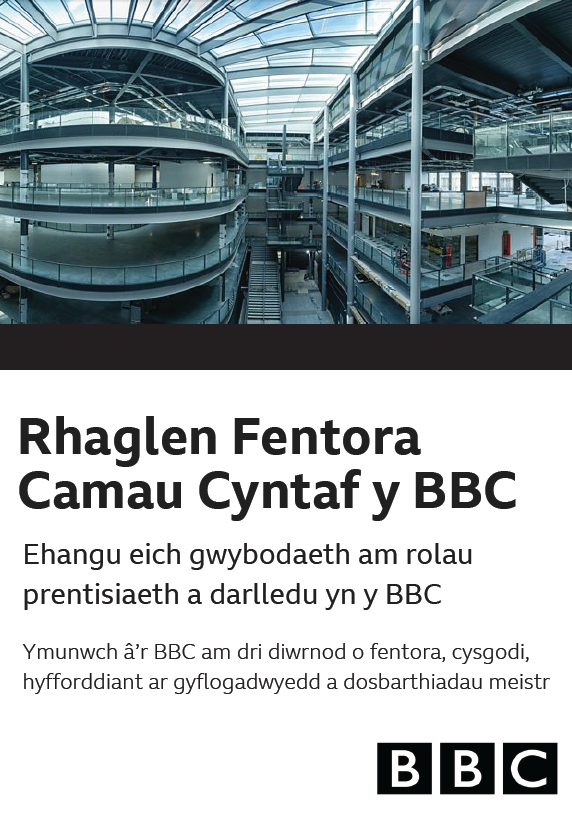 BBC First Steps Mentoring project-Kick-start your knowledge about broadcasting and apprenticeship roles at the BBC.
Click on image for application details in English or Welsh.
I'm delighted to launch the BBC's First Steps mentoring project for future apprenticeship candidates. Do you know a young person with a passion for media and broadcasting? Do you think they would benefit from some mentoring by production teams at the BBC?
BBC Wales is offering mentoring support and guidance, for up to 15 young people in Wales, with the aim of helping them to do better with the application process for the BBC's Digital Journalism Apprenticeships when they launch on January 7th, 2019 next year.
It can be really difficult to apply for one of our apprenticeships and we appreciate that. The online questions, online assessments and application to a deadline, can all be a tough process to get through. So First Steps is here to give a little bit of help to talented potential candidates. We are not looking for your A star students who can write applications well already. We are looking for talented young people with a passion for some kind of media, who have that creative spark but might need some help when it comes to dealing with formal applications.
We will accept up to 15 people this year with an interest in Journalism and they will come into the BBC here in Cardiff for one day in January, one in February and one in March. These days will involve mentoring, shadowing, employability training and potential masterclasses
Potential applicants can apply for the First Steps initiative. You can send their application straight to schemes@bbc.co.uk, or you ask your Media or English teacher to introduce them and we'll email them directly to ask them.
Please note, all applicants must be 18 years old or older by September 2019.